Stack Up Challenges for Hybrid Microwave PCBs
Nowadays, with consumers' requirements to integrate different functions in a single electronic device, such as mobile phone, web browser, music player, PDA, camera, etc., designers begin to face more arduous challenges. One of the challenges is to support PCB designs that integrate RF and microwave devices. It is not a new concept to realize RF and microwave in PCB design. PCB designers have been working hard for more than 20 years. But the problem is that engineers have to work hard to integrate RF and microwave devices, so how can we change that now?
A major part of any RF/microwave PCB application is the ability to stay within the specific tolerances of a design so that the required frequencies can be achieved. One of the most difficult challenges in managing the stack-up of a hybrid design is consistently achieving an overall thickness requirement from panel to panel and even piece to piece in some applications. Since there is more than one material type, there will also be more than one prepreg (adhesive system) type that can be used to laminate the design together.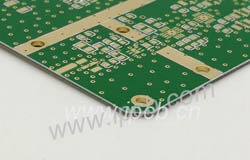 A lot of RF PCB designs have RF signal layers that have large open (un copper filled) areas after etching, a fabricator will use different techniques to assure that there is plenty of insulation between the layers and that we have a consistent overall thickness.

In many instances a no-flow FR-4 prepreg will be the best solution to keep the thickness uniform but that can add material to the overall stack up and change the electrical properties of the entire package. Not all PCB fabricators processes work exactly the same which is another reason why early involvement is critical to a successful design.