Application of nano waterproof material in PCBA
The function of PCBA nano waterproof agent can be understood as PCB nano waterproof coating, PCBA nano moisture-proof coating and salt spray corrosion resistant coating, which provides a better solution for PCBA waterproof of electronic products. The nano coating is directly applied to PCBA by soaking and spraying. As long as PCBA is soaked in nano solution for several seconds or sprayed, it can be completely dried after being taken out and dried for several minutes at room temperature. This saves time compared with the traditional three proofing paint products, which often takes 24 hours to dry completely.
The construction process of PCBA nano waterproof agent is spray or dip coating, which is easier to form. The coating is uniform, with less sagging, and there is no bubble and peeling phenomenon. The component pins and narrow gaps are covered completely. However, the traditional three proofing material technology is easy to generate bubbles and uneven conditions. Moreover, some parts are repeatedly sprayed. Some plates are still sprayed before spraying Need to wash the plate drying plate and other related processes. And Uber nano waterproof agent can avoid these situations. The product can be widely used in communication equipment, circuit board and other fields.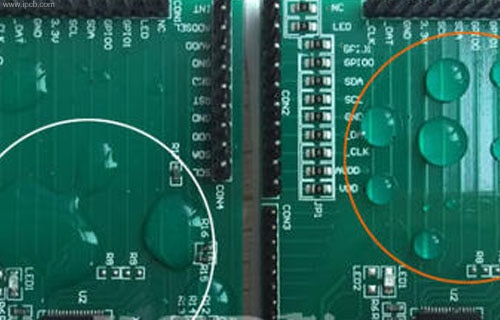 PCBA waterproof material
Characteristics of PCBA nano waterproof material
1. Nano waterproof material is suitable for all PCBA. It can combine with all substrates very well. It is waterproof, sweat proof, moisture-proof and corrosion-resistant
2. It can form nano conjunctiva similar to "lotus leaf effect" on PCBA, effectively protect the working ability of electronic components in humid and underwater extreme environment, and enhance the ability of electronic components to prevent moisture and corrosion
3. By soaking in PCBA, the nano waterproof material can penetrate into every tiny gap of electrical components to achieve complete coverage and encapsulation, and improve waterproof performance. This kind of material is suitable for electronic devices working in humidity or underwater for a long time.