Common types of conformal coatings
Conformal coating is a special polymer film-forming material used to protect circuit boards, components and other electronic components from adverse environmental conditions caused by corrosive air, humidity, heat, fungi and pollutants (such as dust and soil).
There are five common conformal coatings. How to choose the right coating for your application?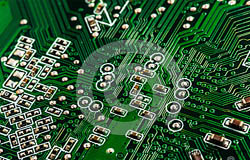 protect PCB and electronic components
Acrylic adhesive
Acrylic adhesives are easy to dissolve in many organic solvents, so they are easy to repair circuit boards, and usually only provide selective chemical resistance. Acrylic adhesive has the advantages of quick drying, good mildew resistance, no shrinkage during curing and good moisture resistance. However, the disadvantages are low wear resistance, easy to be scratched, cracked and peeled off.
Epoxy, two component
Epoxy resins are usually two-component compounds that start to cure after mixing. Good resistance to moisture and abrasion. But the paint is difficult to remove and rework. Since film shrinkage occurs during polymerization, it is recommended to use buffers around precision components. Curing at low temperature can reduce shrinkage to.
polyurethane
Polyurethane has good moisture resistance and chemical resistance. Due to its good chemical resistance, strippers (which may leave ionic residues) are required to remove coatings. These residues may need to be thoroughly cleaned to prevent corrosion of the bottom plate. Polyurethane can be reworked by welding, but usually produces Brown residues that affect the appearance of the product.
Silicone
Silicone is usually a single compound that begins to solidify when exposed to moisture in the air and at a certain temperature. Silicone has good wettability and adhesion after curing on all surfaces of electronic materials or modules. It can be widely used in high temperature (> 120 ℃), humidity sensitivity, chemical resistance, corrosion resistance, antifungal environment.
Ethyl carbamate
Ethyl carbamate has strong protection, hardness and high solvent resistance, which can provide excellent wear resistance and low moisture permeability. In addition, it has good low temperature adaptability, but it can not work well in high temperature environment, and most of them can not be repaired or reworked.