Plug in packaging technology of PCB technical guide
Placing parts on one side of the board and welding pins on the other side is called "through hole technology (THT)" packaging. This part takes up a lot of space and a hole is drilled for each pin. So their pins actually take up space on both sides, and the solder joints are relatively large. But on the other hand, compared with SMT (surface mounted technology) parts, tht parts have better connection structure with PCB. We will talk about this later. For example, flat cable sockets and similar interfaces need to withstand pressure, so they are usually packaged in tht.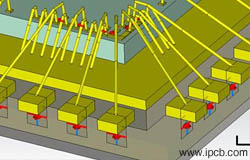 Plug in packaging technology of PCB technical guide
Surface mounted technology
For parts using surface mounted technology (SMT), the pins are welded on the same side as the parts. This technology does not need to weld each pin, but drill holes in the PCB. Surface adhesive parts can even be welded on both sides.
SMT also has smaller parts than tht. Compared with the PCB using tht parts, the PCB with SMT technology has more dense parts. SMT package parts are also cheaper than tht. Therefore, it is not surprising that most of today's PCB is SMT.
Because the solder joint and the joint of parts are very small, it is very difficult to weld manually. However, if the current assembly is fully automatic, this problem will only occur when repairing parts.