Printed circuit board (PCB), refers to the printed circuit board which forms the connection between points and printed components on the general substrate according to the predetermined design. Its main function is to make all kinds of electronic components form the connection of predetermined circuits. It is an important electronic part and the support body of electronic components.
The manufacturing quality of PCB not only directly affects the reliability of electronic products, but also affects the overall competitiveness of system products. The development level of PCB industry can reflect the development speed and technical level of electronic information industry of a country or region to a certain extent.
PCB is mainly divided into rigid board (single board, double-sided board, multilayer board), flexible board (FPC) and rigid Flex PCB.
Mobile phone market is the largest application product of FPC materials
Flexible printed circuit (FPC) fits the development of miniaturization and thinness of electronic products with its excellent physical characteristics.
According to prismark data, the global FPC output value in 2018 will reach about US $12.8 billion, and it is expected to reach about US $14.9 billion by 2022, with a compound annual growth rate of 3.87%.
In the downstream application structure, consumer electronic products are the main application fields of FPC, in which smart phones and tablet computers account for 40% and 16% respectively, accounting for the vast majority of the downstream application market of FPC. In recent years, with the rapid development of automotive electronics, the demand for FPC has gradually increased to 14%.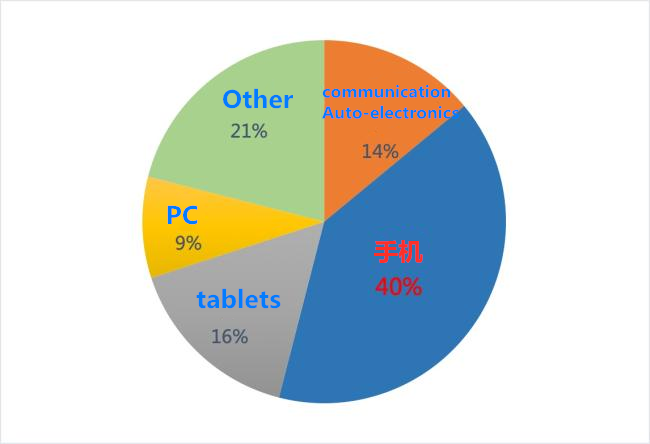 ▲The mobile phone is the main application product of FPC material
Over the past 10 years, iPhone FPC usage has increased significantly (from 10 on iPhone 4 to about 25 FPCs on iPhone 11). Influenced by Apple's firm use of FPC board, more and more FPC are introduced into Apple's products. The single use of FPC board of smart phone has reached 10-15 pieces, which effectively promotes the demand of FPC board. In the future, we are expected to see more and more FPC appear in various brands of intelligent terminals, thus driving the growth of the entire FPC Industry Chain.
With the landing of LCP / MPI radio frequency antenna / front 3D structured light / rear TOF lens and other innovations, FPC is expected to continue to rise both in volume and price in iPhone. With the trend of 5g replacement and the outbreak of wearable hardware (TWS and watches), Apple's position as a single major customer in FPC Industry is unshakable. We expect that Apple's demand for FPC is expected to exceed $12.6 billion.
Automotive electronics and wearable devices market becomes FPC material incremental market
FPC has the characteristics of thin and flexible, and has the highest degree of fit with wearable devices. It is the preferred connecting device for wearable devices. FPC Industry is expected to become one of the biggest beneficiaries of the booming wearable device market.
According to counterpoint data, over 60 million airpods were shipped worldwide in 19 years, driving a 160% year-on-year growth in the global TWS headset market (120 million TWS earphones in 19 years); IDC predicts that, driven by TWS earphones, the global wearable device shipment will exceed 300 million units, with a year-on-year growth of more than 70%; Gartner predicts that the global wearable device market size in 20 years will be 520 Billion US dollars, an increase of 27% over 19 years.


Tesla leads the trend of automotive electronics. It plans to adopt FPC scheme in the fields of BMS / body control cable (busbar, etc.), and the value of single vehicle is expected to reach US $1000 in the future. In the future, with the deepening trend of automotive automation, networking and electrification, the proportion of automotive electronics in the vehicle cost is expected to exceed 50%. According to prismark's prediction, the FPC output value of automotive electronics will reach 850 million US dollars by 2021.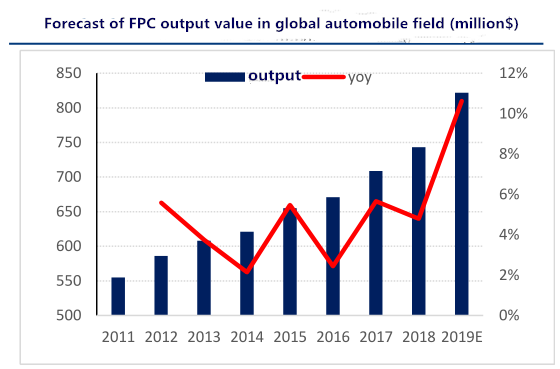 ▲Forecast of FPC output value in global automobile field

Japanese funded enterprises and major enterprises in Taiwan of China occupy the main global FPC capacity. In recent years, FPC manufacturers in Japan and South Korea have declined, and their shares in Apple have continued to shrink, and their capital expenditure / R & D investment / cost control have gradually fallen behind; in recent years, FPC manufacturers in Taiwan of China have not expanded their production on a large scale, and their total share has even declined slightly. FPC capacity transfer to China。