Extensive applications of industrial robots help generate new industrial demands:
In terms of application field distribution of industrial robots, automobile and electronic motor manufacturing are the two main application fields at present, accounting for about 30% of the market respectively, and their main use scenarios are mainly handling, welding and loading and unloading.However, in addition to the increased automation requirements due to the work shortage effect, industrial robots bring new capabilities with the addition of AI and sensor technology to extend their functionality, which is different from the previous operational rules.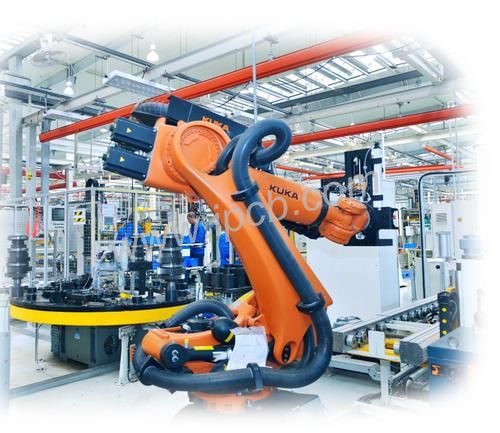 At present, intelligent robots with cognitive learning ability and autonomous adjustment ability can design special functions to adapt to complex work scenes according to industry requirements, so that their application tentacles can be extended to more emerging industries.
In the era of mass production mode, to play the highest production efficiency and save labor costs, such as loading this highly repetitive, or machine up and down hard and dangerous work, generally by the industrial robot operation, mainly used for like for bulk, repetitive or workpiece heavy weight under the condition of use, this is a common loading robot application at present.
However, due to this kind of robot to perform repetitive work mostly, task set is simple, its relative motion path and take the action must be designed in a fixed mode, and so the work often still need extra through human to incoming order to wait for the clip on material again, this is the current lack of up-down material application flexibility, and expect to improve.
In short, automated feeding and unloading solves only half the problem.Compared with humans, it is difficult for a robot to take randomly discharged parts from a container and put them into a machine precisely.Defects to improve the application and the market develop robots randomly take put (Random Bin Picking) technology, and combining with the AI, 3 d vision, may to identify objects including position, attitude and put the information such as order, through the AI adaptive clip path and take the action, because the artifacts without and arrange can be identified in advance, so many factories will be effectively increased the production efficiency.
In the metal processing industry, it is not as popular as the welding robot. The grinding and polishing processes still rely heavily on manual work. Due to the complex shape of water metal products such as holes and multi-curved surfaces, it is difficult to introduce automation.Hardware industry, however, the current domestic water in grinding and polishing process is short of workers more and more serious, prompting market demand for grinding and polishing robot enhancements, and in the 3 d visual and the actual integration system, for a robot with a complex needs polishing path, can reduce the difficulty of its path generation, and achieve stable machining.
It is worth noting that in addition to automobile, electronic motor and mechanical metal processing industries as the main application fields, huang zhong, an analyst at the institute of obstetrics international institute, has observed that currently the robot installation of light industries including textile, footwear and food processing is also growing, and is gradually moving towards automation and intelligent development.For example, the shoe industry, which suffers from the same complex processing path in gluing and polishing, is now using 3D vision to guide improvements, or manufacturers are developing robotic arms to help garment manufacturers improve the proofing process.