Millimeter wave radar helps to drive autopilot, but they need multiple elements, including circuit materials that can provide stable performance for electronic devices and circuits with frequencies above 77 GHz. For example, in ADAS applications, circuit materials are required to support the design of transmission lines for microwave and millimeter wave signals at 24,77 (or 79) GHz to minimize loss while providing consistent repeatability over a wide operating temperature range. Fortunately, Rogers offers this circuit material with the same performance required for ADAS applications from microwave to high-frequency millimeter wave bands.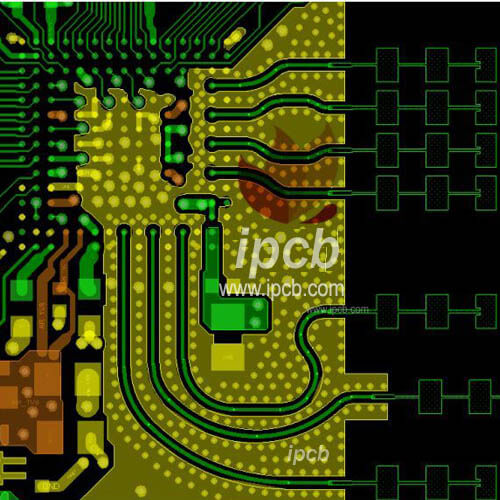 millimeter wave radar circuit
As a part of electronic sensing protection of vehicle ADAS system, vehicle borne radar system will be used together with other technologies. Radar systems transmit electromagnetic (EM) signals in the form of radio waves and receive reflected signals from radio waves from a target, such as another vehicle, which is usually multiple targets. The radar system can extract the information of the target, including its position, distance, relative velocity and radar cross section (RCS) from these reflected signals. The range (R) can be determined based on the speed of light (c) and the required round-trip time (τ) of the signal, which is the time when the radio wave travels from the radar energy source (radar transmitter) to the target and then back to the radar energy source. In vehicle borne radar system, the generation and reception of radar signal is PCB antenna. The value of R can be obtained by a simple mathematical formula, that is, the product of the speed of light and the round-trip transmission time from the radar signal source to the target and back to the radar source divided by 2: r = C τ / 2.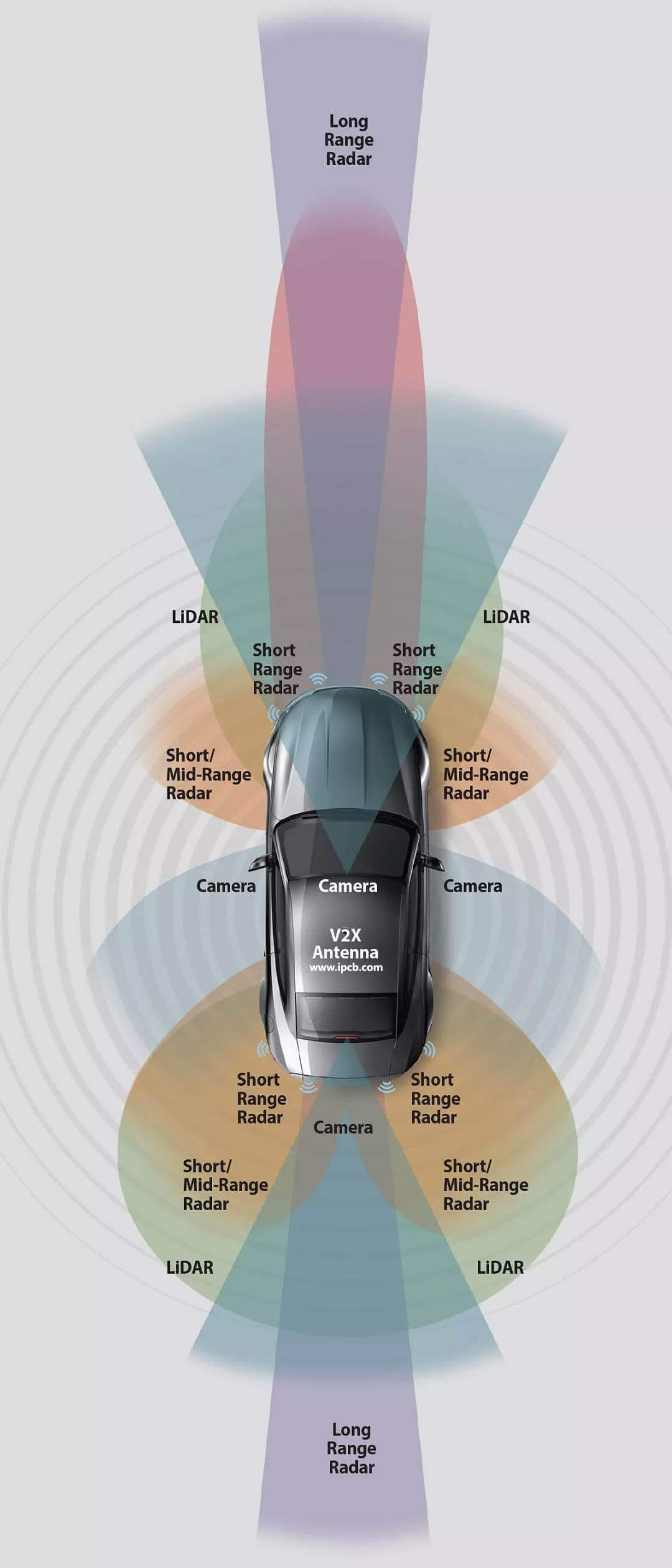 As part of ADAS active safety, the vehicle is equipped with a variety of sensors, including cameras, lidar and radar systems
At present, various radars are used as part of ADAS applications. FMCW signal is widely used because of its effectiveness in measuring the velocity, range and angle of multiple targets. Automotive radars sometimes use narrowband Nb and ultra wideband UWB designs operating at 24GHz. The 24 GHz narrowband vehicle borne radar occupies a 200 MHz range from 24.05 to 24.25 GHz, while the 24 GHz UWB radar has a total bandwidth of 5 GHz, ranging from 21.65 GHz to 26.65 GHz. Narrow band 24 GHz vehicle borne radar system can provide effective short-range traffic target detection, and can be used for simple functions such as blind spot detection. The UWB vehicle borne radar system has been applied to higher range resolution functions, such as adaptive cruise control (ACC), forward collision warning (FCW) and automatic emergency braking (AEB).
However, as global mobile communications applications continue to consume the spectrum of "lower" frequencies (including 24 GHz accessories), the frequency of vehicle borne radar systems becomes higher, and the available millimeter wave spectrum with shorter wavelengths becomes the choice, with frequencies of 77 and 79 GHz respectively. In fact, 24 GHz UWB vehicle borne radar technology is no longer used in Japan. According to the schedules set by ETSI and FCC respectively, it will be phased out in Europe and the United States, and will be replaced by higher frequency narrowband 77GHz and ultra wideband 79ghz vehicular radar systems. 77GHz and 79GHz radar will be used as a functional module for autonomous driving in some form.
Radar is only one of the electronic technologies of future autopilot. Self driving vehicles must be surrounded by different types of sensors, thus helping to continuously collect environmental data to protect the safety of cars and their passengers (one of which may be considered a driver). Self driving vehicles will also rely on information processing called sensor fusion, simultaneous interpreting data collected from many different sensors into usable information and converting it into a safe and comfortable driving experience.
In order to accurately collect the data needed for the peripheral environment such as bicycles, self driving vehicles, etc., many small multilayer printed circuit board antennas and other sensor circuits will need to use stable low loss circuit materials, such as Rogers ro3000, ro4000 and kappa Gamma 4385 laminate with the performance and stability required by the circuit at RF to millimeter wave frequencies.
The size of the circuit decreases with increasing frequency, especially at 77 and 79 GHz, because these signal wavelengths are very small. All kinds of circuit transmission lines working in this frequency band, including microstrip line, stripline, and coplanar waveguide (CPW) circuit, require very good consistency and predictability of materials due to the small size of the circuit, such as ro3003 Gamma And ro4830 Gamma Laminate. High frequency circuit materials, such as the Rogers ro3003 laminate, remain particularly consistent in different circuits and changing environments, with particularly good DK performance, while having the low loss factor (DF) or loss required at millimeter wave frequencies (Fig. 5). Ro4830 thermosetting laminate is very suitable for price sensitive millimeter wave applications. It is also a reliable and low-cost alternative to traditional PTFE based laminates. The dielectric constant of ro4830 laminate is 3.2 at 77 GHz. LoPro? Reverse copper foil technology helps optimize the insertion loss of ro4830 laminates at 77GHz with an insertion loss value of 2.2db per inch.
The excellent mechanical and electrical performance level of ro3000 and ro4000 circuit materials can be compared with that of ro4400 Gamma The bonding materials are combined and perform very well and consistently with low loss circuit characteristics at 79 GHz. These key circuit materials will provide repeatable and reliable electrical performance and enable the sensor to obtain reliable data for the on-board processor of the autopilot vehicle, so as to ensure the safe driving of the vehicle.
For pcb technical problems, ipcb knowledgeable support team is here to help you with every step. You can also request pcb quotation here. Please contact E-mail sales@ipcb.com
We will respond very quickly.
Model :77G Automobile Millimeter Wave Radar PCB
Material:Rogers RO4835+S1000-2
DK : 3.48
Layer: 6Layers
Finished Thickness:1.2MM
Copper Thickness :0.5OZ/1OZ
Color : Green/White
Min Trace/Space : 4mil/4mil
Surfacet Treatment:Immersion Gold
Through hole treatment : lnk Plug
Application :77G Automobile Millimeter Wave Radar PCB
For pcb technical problems, ipcb knowledgeable support team is here to help you with every step. You can also request pcb quotation here. Please contact E-mail sales@ipcb.com
We will respond very quickly.