Rogers RT/duroid 6035HTC 소재 사양입니다
Rogesr PCB RT/duroid 6035HTC 소재입니다
Rogers PCB RT/duroid 6035HTC 고주파 회로 재료는 고전력 RF 및 마이크로파 응용 분야에 사용하기 위한 세라믹 충진 PTFE 복합 재료입니다.
RT/duroid 6035HTC 적층판은 고전력 어플리케이션을 위한 예외적인 선택입니다. 이 적층판은 표준 RT/duroid 6000 제품의 열전도율이 거의 2.4배이며, 장기간 열 안정성이 우수한 동박 (ED 및 역처리)을 가지고 있습니다. 또한 Rogers advanced filler system은 알루미나 필러를 사용하는 표준 고열전도성 라미네이트에 비해 드릴링 비용을 절감하며 우수한 드릴링을 가능하게 합니다.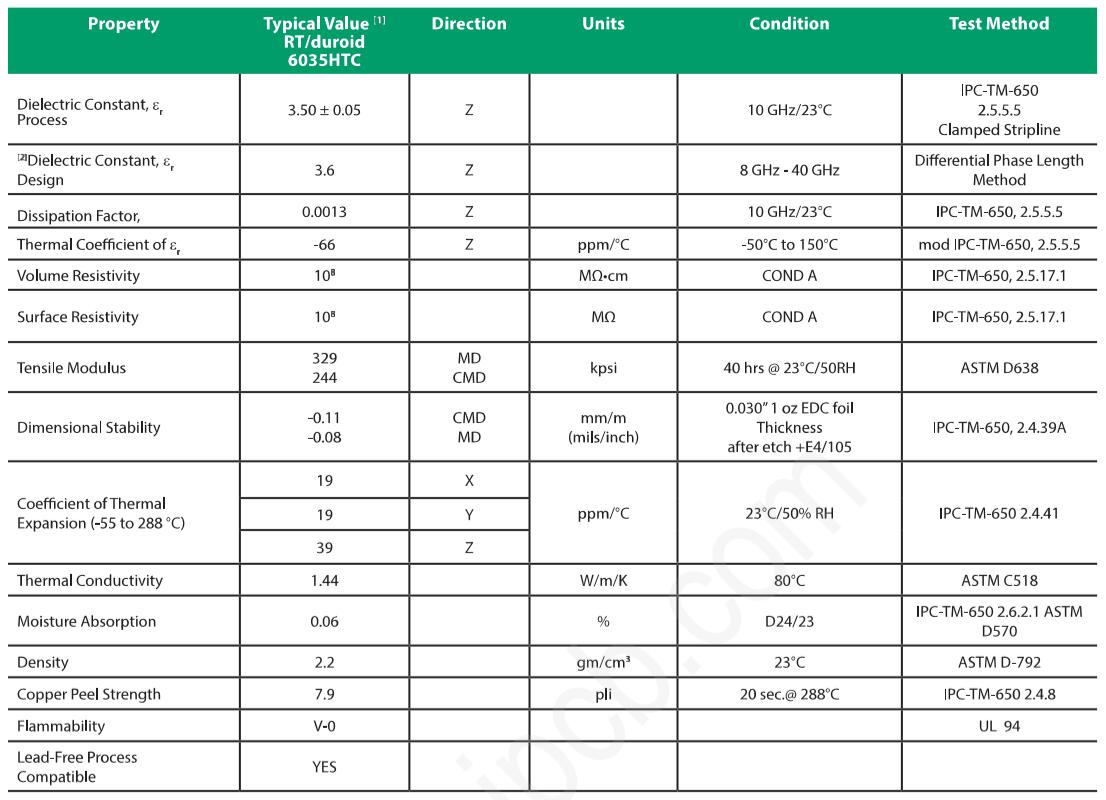 Rogesr PCB RT/duroid 6035HTC Material
특징
Dielectric constant of 3.50 +/- .05
Dissipation factor of .0013 at 10GHz
Thermal conductivity of 1.44 W/m/K at 80°C
Thermally stable low profile and reverse treat copper foil

배네핏
High thermal conductivity
Improved dielectric heat dissipation, enabling lower operating temperatures for high power applications
Excellent high frequency performance
Lower insertion loss and excellent thermal stability of traces

If you need microwave radio frequency PCB, click here Microwave Circuit.